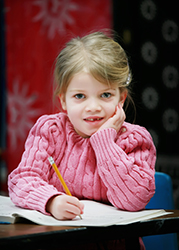 Join us here at Rivendell School! Our priority enrollment period for the 2017-18 school year is open to current families during the month of January.  We open up enrollment to the public in February and available spots are filled on a first-come, first-served basis.  As part of the enrollment process families are required to fill out an application and attend an open house.  Should you be unable to attend an open house, an individual tour can be arranged.  Once the tour is completed each application will be considered and eligible students will be invited to enroll.  Students may join at any time during the school year on a space-available basis.
If you have questions about our programs, please don't hesitate to contact our admissions specialist directly. You can visit during one of our scheduled Open Houses or arrange for an individual tour of the school.  We'd love to have you come by and see the amazing learning environment we have created for Rivendell students.
RIVENDELL SCHOOL DOES NOT DISCRIMINATE ON THE BASIS OF RACE, COLOR, RELIGION, GENDER, NATIONAL ORIGIN, DISABILITY, GENETIC INFORMATION, SEXUAL ORIENTATION OR ANY OTHER BASIS PROTECTED BY FEDERAL, STATE, OR LOCAL LAWS IN ANY EDUCATIONAL PROGRAM OR ACTIVITY SPONSORED BY THE SCHOOL.  WHILE RIVENDELL SCHOOL DOES NOT HAVE SPECIAL SERVICES TO OFFER TO SPECIAL NEEDS CHILDREN, AN EFFORT IS MADE TO ACCOMMODATE ALL LEARNING STYLES AND DISABILITY CONDITIONS AND TO INTEGRATE THE CHILDREN FULLY.