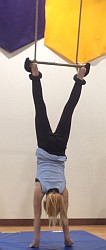 The fun and learning doesn't stop when school lets out! Various after-school activities and classes are offered throughout the year. From robots to yoga to music to chess, we have a class for you.
2017-18 Activities:
Looking for something exciting for your child to do after school?  We have a number of great opportunities!
Chess (offered through Chessmates). Tuesdays 3:30-4:30 p.m. in Room 3 (Sarah's room), September - November, grades K-5th.  Cost is $65 for 12 weeks of class and chess instruction.  Each class includes 30 minutes of instruction and 30 minutes of playtime taught by an experienced chess coach. Register and pay online through Chessmate's Google Form and PayPal.  To find online registration form: Note: There is a link on the Google Form to pay registration through PayPal.  If you would prefer to pay wish cash/check please email as soon as possible at info@chessmatesfc.com. Refund policy: Any participant may receive a full refund until after the second class is completed. After the second class there will be no refunds granted or partial credits given for any reason.
Preschool and Kids Yoga. Wednesdays from 3:20-4:20pm (ages 3-12) in the gym, children can participate in Kids Yoga. Kids learn safe stretching, deep breathing, relaxation, focus, and have fun! Space is limited to 10 children per session. To register, please contact Victoria Clarke at rivendellyoga@gmail.com or 970-419-8520.

Aug 30-Sept 27, 5 classes, $80
Oct 4-Oct 25, 4 classes, $64 (no class Nov. 1 between sessions)
Nov 8-Dec 20, 6 classes, $96
Jan 10-Feb 14, 6 classes, $96
Feb 21-April 4, 6 classes, $96 (no class Mar. 14)
April 11-May 23, 6 classes, $96 (no class Apr. 18)

A snack is provided at the beginning of each class; please let Victoria know if your child has any food allergies.
Guitar Lessons. Half-hour lessons from 3-6 p.m. on Mondays and Thursdays for the entire Rivendell community (parents included!)  First lesson only $10, succeeding lessons are $20.  Parent and child lessons are $25. To register, contact Justin at 970-691-0255.
Brenda's Younger Kids Reading Readiness. This class helps students with letter/sound recognition as well as phonemes and rhyming words.  Emerging readers will practice beginning, middle and ending sounds to reinforce decoding skills. Limit of six Younger Kids students, ages 4-7, $60.

Wednesdays 3:20-4:00, next session starts Oct. 18

Wonder Kids presents Tinker Tuesday with Kari. Students will be given weekly demonstrations on tinkering possibilities along with materials to design and build their own inventions. Demonstrations and materials will include (but not limited to) take-a-parts, tool use, simple circuits, makey-makey, little bits, tape, glue, knots and more!  All materials are included in the cost. The lab will serve as our very own maker space for children to Dream BIG and build it! Students will have the option to display their projects at Rivendell then take them home at the end of our 4 week session. Tuesdays 3:20-5:00pm, age 7 and up (parents welcome to come tinker too!) in the science room. Limited to 10 participants, $90 per session:

Session 1: October 3, 10, 17, 24
Session 2: January 9, 16, 23, 30
Session 3: April 3, 10, 17, 24

To register: kariwondergill@gmail.com or 360-296-3067.
Odyssey of the Mind Odyssey of the Mind is an international educational program that provides creative problem-solving opportunities for students from kindergarten through college. Team members apply their creativity to solve problems that range from building mechanical devices to presenting their own interpretation of literary classics. If you are interested, please contact Kara at kara@rivendell-school.org for more information.

Primary Team (K-2nd Grade)
3:20-4:20pm, day TBD
Late Nov-Mar. 24, Tournament date Sat. March 24
Cost approx $150 per child depending on team size
Division 1 Team (3rd-5th Grade)
Thursdays, 4:45-5:45pm
Late Oct-Mar. 24, Tournament date Sat. March 24
Cost approx $150 per child depending on team size
Check at the front desk for more information and sign-up info.