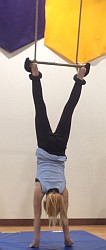 The fun and learning doesn't stop when school lets out! Various after-school activities and classes are offered throughout the year. From karate to yoga to music to chess, we have a class for you.
2017 Spring Activities:
Looking for something exciting for your child to do after school?  We have a number of great opportunities!
Chess (offered through Chessmates). Tuesdays 3:30-4:30 p.m. in Room 3 (Sarah's room), September - November, grades K-5th.  Cost is $65 for 12 weeks of class and chess instruction.  Each class includes 30 minutes of instruction and 30 minutes of playtime taught by an experienced chess coach. Register and pay online through Chessmate's Google Form and PayPal.  To find online registration form: Note: There is a link on the Google Form to pay registration through PayPal.  If you would prefer to pay wish cash/check please email as soon as possible at info@chessmatesfc.com. Refund policy: Any participant may receive a full refund until after the second class is completed. After the second class there will be no refunds granted or partial credits given for any reason.
Preschool and Kids Yoga. Thursdays from 3:20-4:20pm (Preschool through Older Kids) in the gym, children can participate in Kids Yoga. Kids learn safe stretching, deep breathing, relaxation, focus, and have fun! Sign up sheets for Rivendell Kids Yoga classes are located at the Rivendell front desk. Space is limited to 12 children per session. Please contact Victoria with questions at rivendellyoga@gmail.com or 970-419-8520.

Session 4: January 12-February 23 (6 classes—no class Feb. 16), $72
Session 5: March 2-April 13 (6 classes, no class 3/16 during Spring Break), $72
Session 6: April 20-May 25 (6 classes), $72

Guitar Lessons. Half-hour lessons from 3-6 p.m. on Tuesdays and Fridays for the entire Rivendell community (parents included!)  First lesson only $10, succeeding lessons are $20.  Parent and child lessons are $25. To register, contact Justin at 970-691-0255.
Piano Lessons. By appointment, ages 4 and up.  Sight-reading, composition, improvisation, music theory, ear training, and a love of music! Taught at Rivendell in the Music Room, with available times both before and after school. Performance opportunities available. Only $22 for a half-hour lesson, $11 for 15 minute lessons. Contact Jessica Graef for more information, jpgraef@hotmail.com or 970-402-5795.
Brenda's Younger Kids Reading Readiness. This class helps students with letter/sound recognition as well as phonemes and rhyming words.  Emerging readers will practice beginning, middle and ending sounds to reinforce decoding skills. Limit of six students, ages 4-7, $60.

Wednesdays starting March 22, 3:20-4:00pm in Brenda's room. Six classes, through April 26.
Check at the front desk for more information and sign-up info.