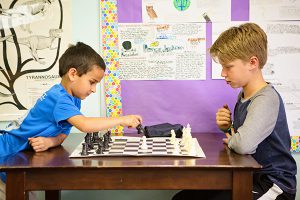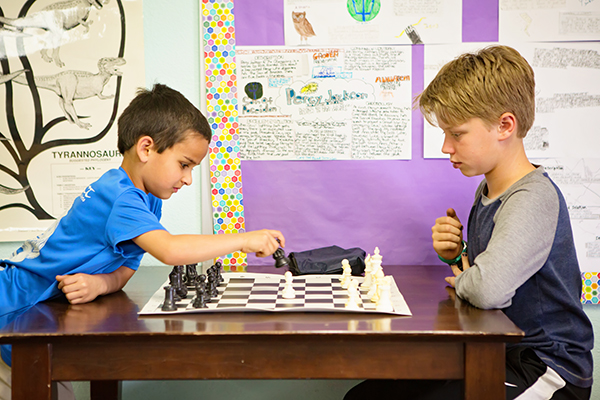 The fun and learning doesn't stop when school lets out! Various after-school activities and classes are offered throughout the year. From robots to yoga to music to chess, there is a class for you.
Students attending after school activities at Rivendell, should first check in to aftercare. Instructors will come to aftercare to check-out students for their activities. For activities beginning right after school at 3:30, you will not be charged an aftercare fee. Please remind your child to go to aftercare first if they have an after school activity.
Please note: All communication regarding after school activities (such as schedules, fees, etc.) is directly through the after-school activity provider (via email/phone listed below), not through Rivendell.
2018-19 Activities:
Looking for something exciting for your child to do after school?  There are a number of great opportunities!
Chess
Offered through Chessmates. Tuesdays 3:30-4:30 p.m. in Room 3 (Sarah's room), Sept 11-Dec 4, grades K-5th.  Cost is $65 for 12 weeks of class and chess instruction.  Each class includes 30 minutes of instruction and 30 minutes of playtime taught by an experienced chess coach.
Register and pay online through Chessmate's Google Form and PayPal.  To find online registration form:
Refund policy: Any participant may receive a full refund until after the second class is completed. After the second class there will be no refunds granted or partial credits given for any reason.
Yoga and Mindfulness for Kids and Adults.
Kids Yoga.
Wednesdays from 3:20-4:20pm (ages 3-12) in the gym, children can participate in Kids Yoga. Kids learn safe stretching, deep breathing, relaxation, focus, and have fun! Space is limited to 10 children per session. To register, please contact Victoria Clarke at rivendellyoga@gmail.com or 970-419-8520.
Session1: Aug 29-Sept 26, 5 classes, $95
Session 2: Oct 3-Nov 7, 5 classes, $95 (no class Oct 24
Session 3: Nov 14-Dec 19, 6 classes, $95
A snack is provided at the beginning of each class; please let Victoria know if your child has any food allergies.
Mindful Kids.
Monthly on Fridays from 3:20-4:10pm, children (ages 3 - 12) can participate in a mindfulness class. Children will play games that teach how to be present and focused and will practice relaxation techniques that will cultivate mindfulness and improve their mindset.
Sept 14, Oct 5, Nov 9 and Dec 7. $19 per class or $59 for all four
A snack is provided at the beginning of each class; please let Victoria know if your child has any food allergies.
Mindfulness for Adults.
Once a month on Thursdays from 6:30-7:30pm, adults can participate in a mindfulness class. This will give parents and teachers an opportunity to learn the same mindfulness activities and exercises that the children are learning in the children's mindfulness class. This is a great opportunity for parents and teachers to learn the same skills their children are developing to help bring the whole family together in practicing and cultivating mindfulness and attention.
Sept 20, Oct 11, Nov 15 and Dec 7, $19 per class or $59 for all four
Have You Ever Wondered..? Science and Math with Annie
For ages 5-7. Have you ever wondered… why do animals have fur? What causes thunder? Why do leaves turn colors in the fall? How deep would you have to dig to get to hot lava? Find out the answers to these questions and many more! We'll do research, experiments, games and crafts that help us explore the answers to things that you have always wondered about! Taught by Annie Carey. Weekly on Wednesdays from 3:45-4:45pm in the science room.
Sept 19-Oct 10, $40 per child, $60 for two siblings (contact office for discount code)
Brenda's Reading Readiness.
This class helps students with letter/sound recognition as well as phonemes and rhyming words.  Emerging readers will practice beginning, middle and ending sounds to reinforce decoding skills. Limit of six students, preschoolers age 4 to Younger Kids age 6. Dates and cost tbd, details coming soon.
Dance Classes
Students will learn rhythm, flexibility, confidence, dance technique and more. Taught by Alison, a Rivendell teacher who has taught dance for 13 years. Snack provided; class meets in the gym. Dates and cost tbd, details coming soon.