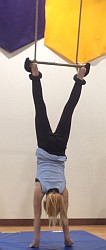 The fun and learning doesn't stop when school lets out! Various after-school activities and classes are offered throughout the year. From robots to yoga to music to chess, we have a class for you.
2017-18 Activities:
Looking for something exciting for your child to do after school?  We have a number of great opportunities!
Chess (offered through Chessmates). Tuesdays 3:30-4:30 p.m. in Room 3 (Sarah's room), September - November, grades K-5th.  Cost is $65 for 12 weeks of class and chess instruction.  Each class includes 30 minutes of instruction and 30 minutes of playtime taught by an experienced chess coach. Register and pay online through Chessmate's Google Form and PayPal.  To find online registration form: Note: There is a link on the Google Form to pay registration through PayPal.  If you would prefer to pay wish cash/check please email as soon as possible at info@chessmatesfc.com. Refund policy: Any participant may receive a full refund until after the second class is completed. After the second class there will be no refunds granted or partial credits given for any reason.
Preschool and Kids Yoga. Wednesdays from 3:20-4:20pm (ages 3-12) in the gym, children can participate in Kids Yoga. Kids learn safe stretching, deep breathing, relaxation, focus, and have fun! Space is limited to 10 children per session. To register, please contact Victoria Clarke at rivendellyoga@gmail.com or 970-419-8520.

Aug 30-Sept 27, 5 classes, $80
Oct 4-Oct 25, 4 classes, $64 (no class Nov. 1 between sessions)
Nov 8-Dec 20, 6 classes, $96
Jan 10-Feb 14, 6 classes, $96
Feb 21-April 4, 6 classes, $96 (no class Mar. 14)
April 11-May 23, 6 classes, $96 (no class Apr. 18)

A snack is provided at the beginning of each class; please let Victoria know if your child has any food allergies.
Guitar Lessons. Half-hour lessons from 3-6 p.m. on Thursdays and Fridays for the entire Rivendell community (parents included!)  First lesson only $10, succeeding lessons are $20.  Parent and child lessons are $25. To register, contact Justin at 970-691-0255.
Piano Lessons. By appointment, ages 4 and up.  Sight-reading, composition, improvisation, music theory, ear training, and a love of music! Taught at Rivendell in the Music Room, with available times both before and after school. Performance opportunities available. Only $22 for a half-hour lesson, $11 for 15 minute lessons. Contact Jessica Graef for more information, jpgraef@hotmail.com or 970-402-5795.
Brenda's Younger Kids Reading Readiness. This class helps students with letter/sound recognition as well as phonemes and rhyming words.  Emerging readers will practice beginning, middle and ending sounds to reinforce decoding skills. Limit of six students, ages 4-7, $60.

Beginning Sept/Oct, exact dates/times TBD.

Wonder Kids presents Tinker Tuesday with Kari. Students will be given weekly demonstrations on tinkering possibilities along with materials to design and build their own inventions. Demonstrations and materials will include (but not limited to) take-a-parts, tool use, simple circuits, makey-makey, little bits, tape, glue, knots and more!  All materials are included in the cost. The lab will serve as our very own maker space for children to Dream BIG and build it! Students will have the option to display their projects at Rivendell then take them home at the end of our 4 week session. Tuesdays 3:20-5:00pm, age 7 and up (parents welcome to come tinker too!) in the science room. Limited to 10 participants, $90 per session:

Session 1: October 3, 10, 17, 24
Session 2: January 9, 16, 23, 30
Session 3: April 3, 10, 17, 24

To register: kariwondergill@gmail.com or 360-296-3067.
Wonder Kids presents Flying Frisbees with Kari. Join Kari Gill for all things Frisbee!  Students will walk to Edora every Wednesday afternoon to learn the simple and ageless game of Disc Golf! We will learn how to throw a frisbee, how to play ultimate frisbee and finally how to play the game of frisbee golf, otherwise known as Frolf or Disc Golf. Do not worry if you do not own a frisbee or discs, they are included in the cost. Student's will learn more than just frisbee skills, we will work together as a team to solve challenges, learn encouraging chants and spend time adding simple numbers above par 4! Wednesdays 3:20-5:00pm, age 7 and up. Meet and pick up in the science room. Limited to 12 participants, cost $50: To register: kariwondergill@gmail.com or 360-296-3067
LEGO Robotics. Mondays or Thursdays, TBD. Is your child (age 9-14) interested in competing on a LEGO Robotics team?If so, let us know! If enough interest is generated, a Rivendell LEGO Robotics team can be formed. The season will begin as soon as a team is formed and run through mid-November. Cost will be determined by the number of interested team members. Austin Dicken will be our Rivendell team coach. Austin has been teaching robotics at Rivendell Summer Camps and is excited to lead kids on an exciting LEGO challenge! If you are interested, please contact Kara at kara@rivendell-school.org.
Check at the front desk for more information and sign-up info.