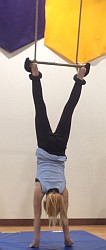 The fun and learning doesn't stop when school lets out! Various after-school activities and classes are offered throughout the year. From robots to yoga to music to chess, there is a class for you.
Students attending after school activities at Rivendell, should first check in to aftercare. Instructors will come to aftercare to check-out students for their activities. For activities beginning right after school at 3:30, you will not be charged an aftercare fee. Please remind your child to go to aftercare first if they have an after school activity.
Please note: All communication regarding after school activities (such as schedules, fees, etc.) is directly through the after-school activity provider (via email/phone listed below), not through Rivendell.
2017-18 Activities:
Looking for something exciting for your child to do after school?  There are a number of great opportunities!