By Madeline Cook, Rivendell School Admissions Specialist
As the admissions specialist at Rivendell School, I have the opportunity to speak with all of Rivendell's new and prospective parents. Below are some of the most commonly asked questions. If you have a question about our school, please don't hesitate to contact me at admissions@rivendell-school.org.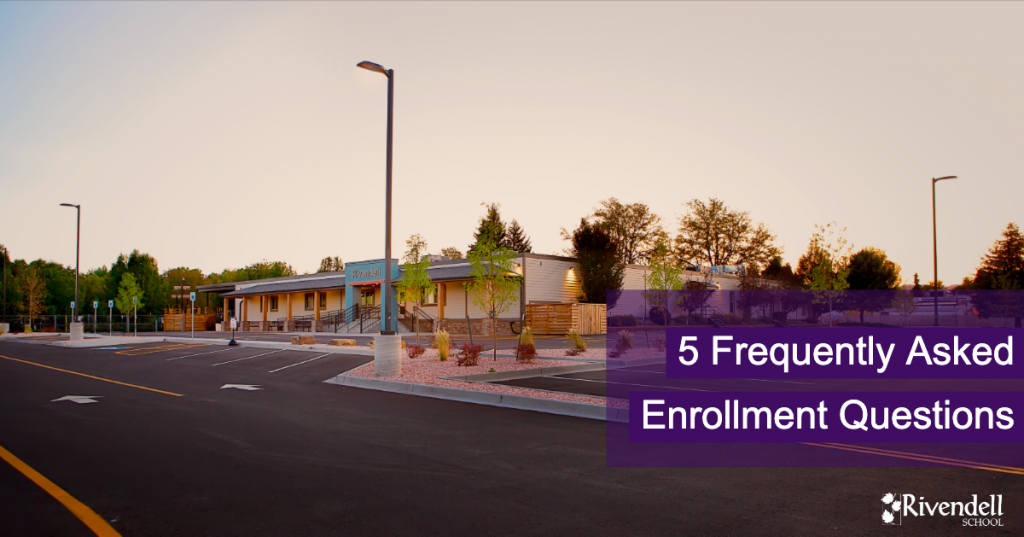 What makes Rivendell different from other schools?
Rivendell is Fort Collins' only independent school, which means we have the flexibility and resources to truly teach to the whole child. We have intentionally small classroom sizes, allowing teachers spend daily, one-on-one time with students to better understand their interests, backgrounds, strengths, struggles, and personalities.
Teachers use this information to enhance every child's learning experience, ensuring their passions are intertwined with their academic experiences. Each student is challenged at their own level and encouraged to progress at a pace that will challenge them, while also allowing them to successfully reach their learning goals. Our teachers conscientiously guide students through each step of their learning journey toward success, building confidence along the way.
How will my student be challenged in a personalized learning environment?
Rivendell School has a philosophy of addressing each individual child's academic needs based on his or her skills, rather than adopting a one-size-fits-all approach of grade-level expectations, as seen in the public school system. When students are given appropriate challenge, at their individual skill level, they become more engaged with their learning experiences.
Our specially designed curriculum allows students to progress through reading, writing, and mathematics at their own pace. Teachers offer support in small group lessons, and during one-on-one sessions go deeper into concepts and understanding. Personalized learning focuses on the mastery of concepts as students progress. This approach keeps students motivated to take on challenges, so they are continually meeting milestones and taking steps forward.
What is the transition for Rivendell students like when they arrive at Middle School?
The move from elementary school to middle school is a significant step in every child's life. We understand this can be a stressful time for students and parents, and we help prepare for this exciting milestone by having in-depth discussions about what to expect, sharing PSD middle school tours, and cultivating a community of support where students know they will always be cared about.
Rivendell students do very well with the academic challenges of middle school. Many of our students are placed in advanced courses. Interested 5th graders also have the opportunity to participate in the CogAt assessment, administered by PSD, to see if they qualify for the gifted and talented program in the public middle school they will attend.
Middle school teachers and administrators tell us that our graduates are effective communicators and know how to self-advocate. These crucial skills mean that our students are able to communicate confidently with adults and build friendships with their peers. Perhaps most importantly, we are told that our students love to learn and look forward to new challenges!
Overall, during the crucially important elementary years, we create an environment in which students are intrinsically motivated and driven by curiosity. We believe this sets our graduates up for success, not only in middle school, but for the rest of their lives.
What extracurricular activities do you offer?
At Rivendell, our goal is to introduce students to a variety of subjects, which we call specials. Specials include music, art, physical education, Spanish, science and engineering, and technology. Each specials teacher introduces various ways to solve problems, so students are able to use methods that engage their thinking in a productive and imaginative way. Our specials classes help students develop into well-rounded individuals who are curious about the world around them.
Through partnerships with local professionals, Rivendell also offers a variety of after school activities such as Odyssey of the Mind, yoga, dance, and music.
How do you handle students' social-emotional conflicts?
Our goal is for students to be advocates for themselves and to understand that the choices they make affect others. To help with this, we embrace the Love and Logic approach, as well as our own unique program called True Colors. Love and Logic provides a loving, balanced approach to conflict resolution that is neither permissive nor punitive. This approach allows teachers the opportunity to use a common language to help students become practiced problem solvers when conflict arises.
The True Colors curriculum was developed by our school counselor and is a mindfulness-based approach in which students identify feelings using colors. The use of visuals helps our students build awareness, and practice taking control of their emotional experiences.
You can learn more about Rivendell by perusing our website or joining our Facebook and Instagram communities. If you'd like information on how to apply, visit our admissions page or contact admissions@rivendell-school.org.