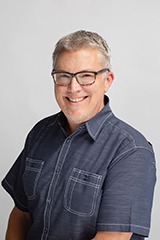 Bryce strives to continue the great work the school's teachers at earlier levels have started. He introduces kids to new levels of responsibility and independence while ensuring that they are comfortable during the transition by providing familiar materials and procedures. In Middle Kids, his students begin putting their newly acquired skills to use, blossoming into independent, self-employed motivated learners.
Bryce strongly believes that each student learns in his or her individual way. It is his job to build a relationship with each student so that he can truly learn their strengths and struggles. This relationship ensures the level of comfort, security, and care that children need in order to truly work to their potential.
Bryce earned his teaching license from the University of Northern Colorado. He has been teaching at Rivendell since 1990.
Bryce enjoys spending time with his extended family, children, and grandchildren. He enjoys time in the Colorado outdoors, camping, fishing, and sightseeing. He also enjoys working with his hands, home improvement projects, and pottery.