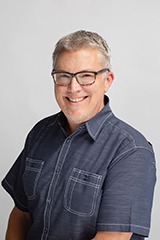 A Fort Collins native, I have been teaching at Rivendell since 1990. I began as a Younger Kids teacher and then moved up to Middle Kids. My two daughters both attended Rivendell from age four through sixth grade. Both girls continue to amaze me with their level of self responsibility and organization, which I attribute to their years at Rivendell.
Art of all types has always been a personal love of mine. I enjoy passing this love on to my students and incorporating art into my classroom whenever possible and appropriate.
Teaching is an amazingly rewarding career in many ways. It's exciting to continually learn new and innovative ways to connect with students and their varied learning styles. At Rivendell we are able to really personalize our classrooms and the way we deliver our curriculum.
By far, the most incredible and unique aspect of Rivendell is the warm, family feeling and the closeness we develop with our students and their families.
When I'm not teaching, I like to spend as much time as possible with my family, taking long walks with my wife, our young son, and dog. I also enjoy painting, pottery, golf, and doing projects around the house.
Back