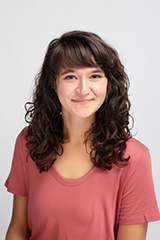 Dylan realizes her job is to instill a love of learning as students begin their academic adventure. She creates an environment where students can explore and identify their strengths and weaknesses in academics as well as in their social-emotional growth. She meets children where they are and challenges them appropriately so they can reach their potential.
Dylan believes children are unique and that they learn, grow, and explore at their own pace. She works to find where their strengths and weakness are and challenge them accordingly.
Starting as a Summer Camp teacher at Rivendell, Dylan eventually joined Rivendell as a full-time teach, and has taught preschool, Younger and Middle Kids. Dylan earned her Psychology degree and Fine Arts degree from Colorado State University.
When Dylan isn't teaching, she loves to relax with a bike ride around town or taking a walk with her dog. She also enjoys trying new recipes at home.