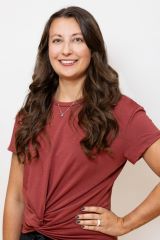 I have been living in Colorado for almost four years now with my husband. When I am not at school, I enjoy exploring all that nature has to offer in this beautiful state; but, I especially like going for runs along the many trails in town. I also like to dance, cook, practice yoga, and hangout with my three nephews whenever I can.
I am originally from Peoria, Illinois. That is where I started my teaching career after graduating from Eastern Illinois University in May of 2013. I have had many teaching jobs from being a camp counselor during the summer, to teaching dance classes, to being a P.E. teacher, a substitute teacher, and even a kindergarten aide.
When I moved to Fort Collins I began my new journey as a preschool teacher at an early childhood center. That is where I found my love for teaching our youngest students. I enjoy their smiles, hugs, and boundless curiosity for learning. I have already felt welcomed by those I have met in the Rivendell community and cannot wait to meet more of you.
Back