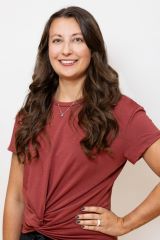 Alison Carter is an Early Childhood teacher at Rivendell School. In this role, Alison is responsible for the academic and social-emotional growth of each preschool student. She also works to foster independence, confidence, collaboration and a love of learning in each student.
Alison describes her teaching philosophy with a quote by Dr. Maya Angelou, "People will forget what you said. People will forget what you did, but they will never forget how you made them feel." She believes in treating people with compassion and kindness. In her classroom, she works hard to create an environment where every student, parent, and staff member feels kindness, support, and encouragement. Alison sets high expectations for herself and her students and believes we use our unique abilities to reach our highest potential together.
Alison received a Bachelor of Science degree in elementary education and a Middle School Endorsement in English from Eastern Illinois University. Prior to moving to Fort Collins, Alison worked in Illinois as a kindergarten aid, P.E. teacher, and a long term substitute teacher.
When she's away from her classroom, Alison can be found running with her husband, reading, practicing yoga and meditation, drinking tea, and working in her garden.