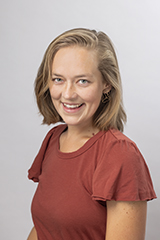 Anna Cohee is a science educator with a background in wildlife science and outdoor education.
As a wildlife technician, she has worked on projects across the country with a variety of exciting animal species (Be sure to ask her about tackling deer, and the time she was bitten by a toucan!). She comes to Rivendell from Casper, WY where she planned and led classes for an outdoor science program.
In her free time, she can be found reading, gardening, or spending time outside with her partner and two pups.