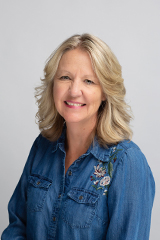 Brenda Dyer is a Spanish teacher and literacy specialist at Rivendell School. In her role, she teaches preschool, Younger Kids, Middle Kids, and Older Kids. She also provides literacy support to Younger through Older Kids.
Brenda believes learning a second language benefits all students academically, emotionally and socially. She feels Spanish is a beautiful language and helps increase cognitive development. Her passion for reading began as a child and she loves sharing literature with children. She believes each child learns in their own unique way, whether auditorily, visually, kinesthetically, or a combination of them all. She wants to help each individual reach their potential.
Brenda has been at Rivendell saince 1998. She loves the students, families, and staff. She has served as treasurer for the Fort Collins Reading Council for the last five years and served as chairman for the Administrators and Reading Award for the Colorado Council of the International Reading Association for the last 4 years. Brenda has been trained through the Institute for Multisensory Education, Barton system and Colorado literacy and learning center. Brenda holds a Bachelor of Art in elementary education.
Brenda loves animals and enjoys riding her quarter horse Milly with the Poudre Wilderness Volunteers. She has a pug mix named Petey that relishes walks in the neighborhood. Her greatest joys are her two grown and married children. Her son Ryan and his wife Erin live in Louisville and her daughter Heather and her husband Chris are both middle school math and science teachers in California. Brenda loves to travel and volunteer. Her hobbies include water aerobics, yoga, reading, and crafts.