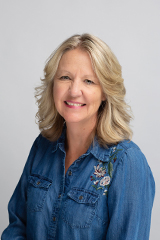 I graduated from Northwest Nazarene University with a BA in Elementary Education and an emphasis in Spanish. I taught first grade in Fort Collins and Texas and I have been a reading and math tutor for 20 years, and I have been at Rivendell since 1998. I love literacy and this is a wonderful opportunity to share the joy of reading and help students improve their skills.
I enjoy teaching Spanish and giving students an opportunity to learn this beautiful language. I strive to develop the students' conversational skills through puppets and situational dialogue. I also incorporate bilingual literature and cultural studies. The students present some plays in Spanish. Each year I look forward to our annual Latin American marketplace in November.
I like watching the Rivendell children grow in their knowledge and confidence. This school has fabulous kids and parents. I also like the great collaboration among teachers and staff.
My hobbies include camping, biking, reading, crafts. I especially enjoy spending time with my family and riding my horse with the Poudre Wilderness Volunteers.
Back