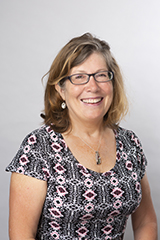 Carol Mouton is a preschool teacher assistant at Rivendell School. In her role, she spends half of her time in the classrooms, providing breaks for the teachers. She also helps with outdoor cooperative play, guides the kids through a social and courteous lunchtime and calms them down for quiet/nap time.
Carol's primary philosophy for guiding children is simple - to give respect, understanding, and compassion to every student. She believes we all need these pieces to grow naturally into the best citizens we can be. She also believes that every child deserves to be set up for success, and it is up to educators to provide this for them.
Carol received a bachelor's of science degree from Colorado State University in Human Development and Family Studies. She has training in crisis intervention and worked two years with parents and their children. Carol previously worked at an elementary school in the Poudre School District as a Para-Professional in the Integrated Services Program.
Carol says she's lived a fortunate life, working with people from different societal and cultural backgrounds and in doing so, has learned a lot about tolerance, patience, and acceptance. Carol has two children who she describes as amazing human beings.