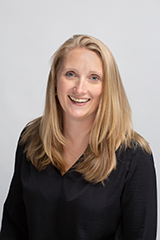 Christin Gallagher is a Middle Kids teacher at Rivendell School. In her role she is responsible for continuing the work and skills developed in Younger Kids or other academic institutions, providing a positive yet challenging classroom environment, and over the course of her students' years in Middle Kids prepare them for the transition to Older Kids.
In her classroom, Christin works to provide an environment that is designed to incorporate and develop fundamental skills. Through her own excitement and love for learning Christin uses a variety of best-practice teaching techniques to create interest and meet the developmental needs of all her students.
Christin holds a Bachelor of Fine Arts in art education and an Early Childhood Directors Certification. Teaching since 2000, Christin has taught a variety of ages, infants through adults.
Born and raised in Northern Virginia, Christin has lived in Colorado since 2004. She is married with one son and enjoys camping, crafting, photography, and spending time with family and friends.