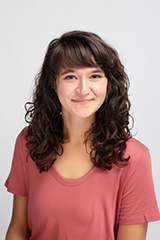 I officially started teaching at Rivendell in 2015 and have been a part of the community since my years in Younger Kids. Along with my personal connections, I love the community at Rivendell because of their investment in individualized education and emphasis on care and compassion.
Before becoming a full time teacher, I did guest teaching as well as daycares while I was a student at Colorado State University. I love working with children and getting to use my creativity in the classroom.
I was born and raised in Fort Collins and love spending time in my hometown. When I'm not with kids, I love to travel, camp, paint, and be active in the local art scene.
Back