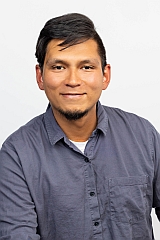 Edd Casas is a motivated, creative educator with a passion for art. He loves to draw, paint and build with his hands.
Edd's background and passion has always been in art. He is excited to work with the Rivendell's students, staff, and families, and he is drawn to the unique, positive, and individualized learning culture that Rivendell has carefully cultivated.
He earned his bachelor's degree in art at the University of Nebraska, and has always aspired to share his passion and spread his creative knowledge.
Edd enjoys spending his free time at home with his family doing shared activities. His outdoor time is usually spent on long walks and going out paddle boarding.