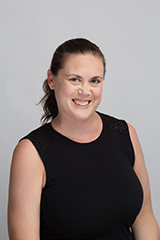 Elisa Thornton is the office manager at Rivendell School. In her role, she manages a variety of business-related activities such as managing vendor relationships and the school payroll.
Elisa holds a Bachelor of Science in apparel design and merchandising from Colorado State University and a Bachelor of Arts in history and her Secondary Teaching Certification, also from Colorado State University.
Elisa has worked at Rivendell since 2014 and her daughter, Gracie, graduated from Rivendell in 2019. She is originally from Denver and moved to Fort Collins in 1998. She loves to read, go to Old Town, travel and spend time with her friends and family.