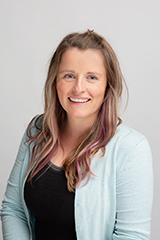 Emily Higgins started at Rivendell as the Science and Engineering teacher, and is now part of the preschool team. She works hard to make sure her classroom is inclusive and each student is given the opportunity to share ideas and collaborate with and learn from his or her peers.
Emily has worked in education since 2009, and has taught preschool, 3rd grade, and has led science camps and classes. Emily holds a bachelor's degree in physical geography and focused on Earth Sciences and climatology during her undergraduate studies.
Born and raised in Colorado, Emily moved to the Fort Collins area after graduating from the University of Colorado to work as a cartographer. After working for a few years, she decided teaching was where her heart was and went back to school to earn a Master of Arts in elementary education from the University of Northern Colorado.
Outside of the classroom, you can find Emily spending time with my four favorite boys: her husband, two sons, and husky Loki. Her family loves hiking, camping, snowshoeing, and going to music festivals. Her favorite is Rocky Grass where we get to combine their loves of camping and bluegrass music.