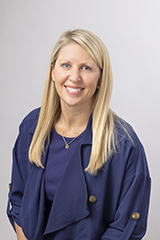 Heather is the school counselor at Rivendell. Her job is to design and implement a school counseling program to meet the needs of every student. Her duties include classroom guidance lessons and character building, individual and group counseling, and supporting and collaborating with teachers and parents to support children at our school. It is her desire to equip each child to become their best in all areas of their lives; academic, social, and emotional.
Heather graduated from the University of North Texas with both her Bachelor's and Master's degrees. She began her ten-year career as a middle school teacher and coach, then became an elementary school teacher. For the next four years, she was an elementary school counselor. She is trained in ROPES, play therapy, art therapy, and sand tray therapy. Heather's passion is working with children to help them realize their full potential, based on their individual strengths and gifts.
Heather lives in Fort Collins with her husband, Jeremy, and their two boys, Davis and Benjamin. Outside of work she loves to hike, birdwatch, ride bikes, snowshoe, walk their two dogs, camp, and just about any other outdoor activity here in beautiful Colorado!