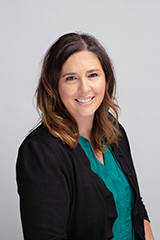 Holly Warren is the principal and executive director at Rivendell School. As principal, Holly is responsible for overseeing teachers as they provide every student with an individualized education. She is also responsible for managing and overseeing the business side of the school, including achieving financial and fundraising goals and maintaining and improving the school's overall rating and accreditation.
Creating life-long learners within the school community is something Holly strives for in her role. She thinks that teachers help set the path for students to learn, grow, and take risks. She believes students challenge teachers to be the best educator they can be and do their best in the classroom every day. At Rivendell, she believes everyone is on the path of life-long learning, and learning from each other is the best resource.
Holly attended the University of Northern Colorado where she earned both a Bachelors's degree in Kinesiology with an emphasis in physical education and a Masters's degree in educational administration. She joined the Rivendell teaching staff in 2001 and in 2016 became the Principal and Executive Director of the school.
Holly enjoys spending time with family and friends outside of school. She is an avid reader and enjoys playing basketball and tennis in her free time. Holly has a son that attends Rivendell school and she feels lucky to be a part of his elementary experience.