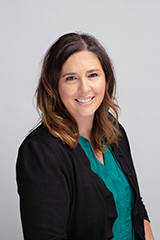 After a fun childhood growing up in Colorado, I studied kinesiology, with an emphasis on physical education and early childhood education, at UNC. I have been a member of the Rivendell staff since 2002. I started as the PE teacher, became a member of the preschool team in 2005, and moved up to Younger Kids in 2011, and in the summer of 2016 I became the principal.
As a teacher, I enjoyed watching each child learn and grow in his or her own creative way. I enjoyed getting my students moving, and I understand and embrace that each student learns differently. Now in the role of principal, I have the opportunity to build relationships with all students at Rivendell. I have enjoyed the opportunity to lead this awesome staff and continue to grow Rivendell to its fullest potential.
I love being a member of the Rivendell community. I so grateful that I get to have a relationship with all the students, staff and parents in the school. Rivendell feels like a family to me. It is a unique school that I am proud to be a part of. I believe wholeheartedly in our mission of helping children achieve academic and personal excellence through individualized education.
When not at school, I enjoy spending time with family and friends. I also love reading, hiking, traveling, playing tennis, and being outdoors. .