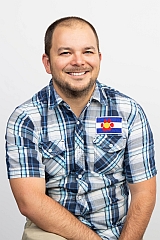 Jared is from Longmont, Colorado, and has been teaching in the public school system from the Western Slope to the Front Range of Colorado since 2013. He's taught a wide range of academics from elementary music, middle school math, Gifted and Talented, and STEM. He's also taught private music lessons from ages 8-18, been an after-school community director, a middle/high school youth ministry leader, and mentored many music educators around the state.
He strives to create an environment at Rivendell where children are valued, expressive, innovative, and instill in them a love of learning.
He received his Bachelor of Music Education at the University of Northern Colorado and completed graduate school at Adams State University focusing on his Master's in Curriculum and Instruction with Endeavor STEM.
Outside of school, he enjoys hiking, biking, fishing, playing music, board games, and adventuring.