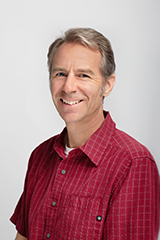 While not quite a Fort Collins native, I grew up in the Choice City after my family moved here in 1977. After graduating from Colorado State, I worked for Hewlett Packard for 15 years as a software engineer.
While working at HP, I played soccer—a lifelong passion—and coached for the Fort Collins Soccer Club, earning national coaching credentials, including a licensing in developmentally appropriate coaching methods for kids ages 5 through 12.
After leaving HP in 2003, I started my own soccer coaching business, Net Results Soccer Training, working with players from age three to adult. I also coached high school soccer for seven years, and led an Arsenal Colorado team to a state championship in 2011.
I love bringing my experience in soccer coaching and teaching to other activities and sports. PE isn't just about playing games; it's about healthy lifestyles, participation, sportsmanship and having fun! I get to apply my engineering skills to help students learn about the latest in technology, and keeping the Rivendell computers and web site running. I also enjoy playing guitar to accompany the kids at Group Sing.
Outside of school I enjoy fishing, playing guitar and cooking.
Back