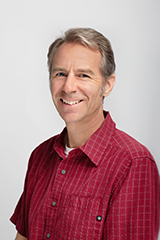 Jeff Benjamin is a technology and physical education teacher at Rivendell School. In Technology, he tries to make sure students understand the ideas behind what they are doing so that after learning to use the technology, the technology can help them learn. In PE, he teaches games, sports, and rules, but also puts an emphasis on sportsmanship, teamwork and why being healthy is important.
Jeff believes kids enjoy learning more if they understand the "why" behind what they are being taught. He always tries to relate topics to real-life situations and stories that illustrate the importance of what they're learning.
Prior to teaching at Rivendell, Jeff worked for 15 years as a software engineer at Hewlett Packard. He has also worked for 20 years as a competitive soccer coach and holds a B-level coaching license from U.S. Soccer. Jeff holds a Bachelor of Science in computer science from Colorado State University.
Jeff is a long-time Fort Collins resident, since 1977. Outside of school, he enjoys music (both performing and listening), cooking and getting into the mountains to hike or fish.