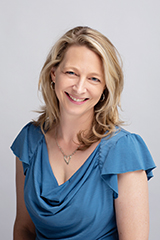 I have been a Rivendell parent since 2011. At Rivendell, I enjoyed volunteering in a variety of roles including as one of Rivendell's volunteer librarians. I love having the opportunity to connect kids with information and books.
Having worked for the Iowa City School District and University of Iowa, taught English abroad and had parents who were both teachers, education has always been an important part of my life.
I love Rivendell's sense of community and I believe strongly in Rivendell's philosophy of individualized education. I appreciate the time Rivendell teachers take to know each of their students and understand their individual personalities and learning styles, and value the strong relationships Rivendell teachers build with their students. The growth, learning and joy I see each year in Rivendell kids makes me proud to be part of the Rivendell family.
When not at school, I enjoy reading, traveling and spending time with family and friends.
Back