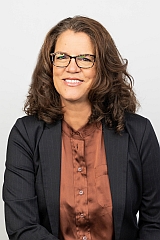 I was a Rivendell parent between 2005 and 2012, and have continued to love the school ever since. I served on the Rivendell Board as a member and Treasurer for over six years. My son, Milo, periodically volunteers with Rivendell summer robotics classes, continuing a passion he first began here at Rivendell.
I bring a variety of work experience to Rivendell's business management needs. After graduating with a Business Management degree at CSU, I worked for Wells Fargo for 15 years. I discovered an affinity for numbers and understanding financial principles. I served in a variety of roles, but my favorites were as a commercial lender and financial analyst. When I became a mom, I began working for myself to have time with my son. That began a wonderful new career I continue today of providing accounting and financial analysis service to front range small business through my consulting practice True Up, LLC. I'm fortunate to love what I do.
I love Rivendell's sense of community and I believe strongly in Rivendell's philosophy of individualized education. I've seen the benefits of this foundation in my own son's life as he advances through Rocky Mountain High School. My son thrived academically, working at his own pace with any core skill set. With the benefit of hindsight, I also realize today how important it was for him to learn respect and kindness in a small community of families and cultures here at Rivendell. There is something special that happens at this school. Over time, the gifts of it become evident. It is a pleasure and privilege to be of service to Rivendell again.
When not working at Rivendell or my other clients, I enjoy game nights with family and friends, lake rafting, hiking and reading.
Back