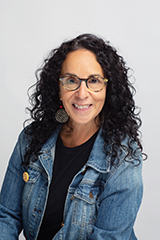 I have had a long and heartfelt relationship with Rivendell School. My husband Chris taught Younger Kids here from 1986 to 1992. I loved coming to school to visit him. There was always a warm family feeling. In the late 1980s he and I began teaching summer classes together at Rivendell. Then I helped out during the school year with lunch duty and aftercare.
After a stint working in the Poudre School District, I jumped at the chance to join the Rivendell preschool staff as Mary's teaching partner in 2005. I am so thrilled to be at such a wonderful place.
My background includes putting together a teen parenting program that focused on teaching parents how to become their child's first teacher. I worked as a Head Teacher at CSU Early Childhood Center where I trained and supervised student teachers in the Early Childhood Center lab school. Later I was on the faculty at Front Range Community College Center for Adult Learning where I taught Life Skills, GED, and ESL classes.
Chris and I have a son and a daughter and one large dog, whom we found as a puppy at a gas station in Chama, New Mexico.