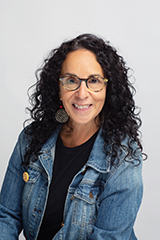 Lois Hunt is the director of Rivendell School's Early Childhood program and a teacher. In the preschool classroom, she creates a fun and safe environment where students have the opportunity to explore a wide range of academics, humanities, and social-emotional challenges and interactions. As director of the Early Childhood program, Lois holds Rivendell's Preschool Director License.
Lois believes all children are unique and special and deserve a nurturing environment that allows them to explore new ideas, be creative, ask questions, and make mistakes. She uses her role as a teacher to foster the students to grow and challenge them appropriately to reach their full potential.
In 2005 Lois joined Rivendell School as a preschool teacher. Prior to Rivendell, she put together a teen parenting program focused on teaching parents how to become their child's first teacher. She also worked as a headteacher at CSU Early Childhood Center where she trained and supervised student teachers in the Early Childhood Center Lab School. Later, she taught Life Skills, GED, and ELL classes at Front Range Community College. Then, she went to Poudre School District where she was a para/tester for the ELL department. I have recently added the directorship.
Lois has two children and a sweet dog named Zeke with her spouse Chris. They love to travel to new countries and try new things. When she's not traveling she likes to read, swim, and explore Colorado