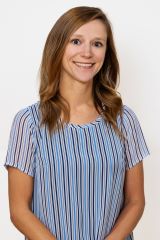 Madeline Cook is an admissions communications specialist for Rivendell school. In her role, she is responsible for assisting families through the admissions process, providing tours of the school, coordinating the volunteer program, and helping facilitate fundraising events and promoting community outreach opportunities.
Through experiences teaching first grade, volunteering in various schools, and working at an early childcare center, Madeline recognizes that every child has unique abilities, strengths, and strategies for learning. She believes it is important to understand each child at a deep level to provide the most effective support and to foster a love of learning.
Madeline has two degrees in education; a Master's degree in curriculum and teaching and a Bachelor's degree in elementary education. Madeline taught first grade for four years in Basehor, Kansas while she worked towards her Master's degree at the University of Kansas, studying differentiation and implementing it within her classroom to the best of her ability. When she discovered Rivendell School, she was thrilled to see a school effectively individualize for every student and foster a balanced whole-child approach to education.
Madeline grew up in the Kansas City area and moved to Colorado with her husband in 2016 to enjoy hiking, snowboarding, and all things outdoors. She loves cooking, board gaming, traveling, and an occasional night of heartfelt karaoke.