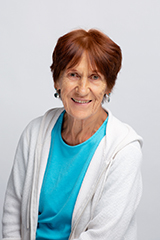 Pat Baker is a Math Specialist at Rivendell School. Through her role, she wants students to see that math can be exciting and fun. She visits each classroom (except preschool) once or twice a week on a regular schedule. Pat uses a wide range of math manipulatives so that students can try hands-on ways of problem-solving. As such, students explore patterns, geometry, spatial visualization, measurement, fractions, decimals, etc.
Pat values the cooperative and collaborative atmosphere at Rivendell as well as the belief and practice that education involves the whole child. She feels the school is a family working together to encourage different methods of inquiry and problem solving which will lead to a belief in life long learning.
Before joining Rivendell in 1991, Pat taught computer science at Colorado State University and Michigan Tech. Pat holds a Bachelor of Science in psychology from Stanford University and a Master of Science in statistics also from Stanford. She also has an ABD in computer science from Colorado University.
Pat's son is an atmospheric scientist and her daughter is an immigration attorney. She has five grandkids. Pat considers herself a country girl who has lived most of her life on a dirt road. She's lived in Rist Canyon since 1969 and rebuilt her home after the 2012 High Park Fire. Pat was born in Illinois and lived in the Bay Area when Silicon Valley was just a lovely meadow near the Stanford campus.