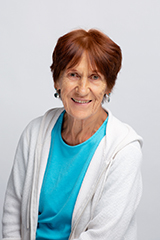 I have been at Rivendell since 1991 and have lived in Rist Canyon, near Fort Collins, since 1969. I grew up in Peoria, Illinois, went to college in California, and lived in France for a year. For a while I taught computer science classes at CSU and Michigan Tech.
I try to share my enthusiasm for and love of math and hope all kids will develop a positive attitude toward the subject. I just love it when a kid beams and say, "Oh! Now I get it!"
Rivendell has an atmosphere of cooperation and collaboration that makes teaching here a pleasure. We are a family working together to encourage different methods of inquiry and problem solving that will lead to lifelong learning. I really like our staff and students.
I am a plant nerd. I love botanical Latin, and I propagate and grow plants from many of the steppe regions of the world. I enjoy time with my kids and grandkids. And I love to dance!
Back