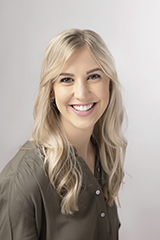 Payton Atkins started at Rivendell as a student teacher in the younger kids' classrooms and is now an Early Childhood teacher in preschool. Her role in the classroom is to provide a fun and inclusive environment for her students while individualizing her teaching to meet each preschooler's needs.
Her teaching philosophy is existentialist in that she focuses on the whole child first. She strives to approach all things in the classroom with a Love & Logic mindset. Payton is a kid at heart, so she loves to play and have fun with her students daily!
Originally from Arizona, Payton moved to Fort Collins in 2017 to pursue her teaching career at Colorado State University. In 2021, she graduated from the Early Childhood Education (ECE) program with a Bachelor's Degree in ECE as well as her ECE Teaching Licensure. She hopes to bring new ideas and perspectives to the preschool team.
Outside of the classroom, she enjoys taking her dog Luna on walks, practicing yoga, and all things Christmas!