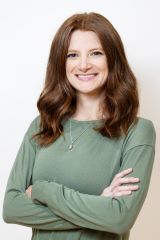 Rachel French is the Director of preschool and Early Childhood teacher at Rivendell School. In her role, she aims to engage and inspire a love for learning in the youngest kids at Rivendell.
Cultivating kindness as a classroom to become successful as an individual friend is part of Rachel's teaching philosophy. She also believes in the quote "Play is the highest form of research."
Rachel joined Rivendell in 2019 which marks her fifth year of teaching. She received her Bachelor of Arts early childhood development from the University of Northern Colorado.
When she's away from the classroom, Rachel enjoys painting, scary movies, shopping and all that Fort Collins has to offer.