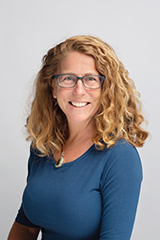 It is at Rivendell that I discovered my love for teaching children. Both of my children attended Rivendell where I volunteered with the reading program, the library, field trips, fund raising, and the steering committee. My interest in teaching grew when I started guest teaching for Rivendell and Poudre School District. In 2007, I went back to school and received my K-6 teaching license, and later received my Early Childhood license.
For seven years I acted as the volunteer librarian for Rivendell. I enjoy reading children's books and I enjoy encouraging kids to find books that kindle their excitement for reading.
I strongly believe in Rivendell's individual education philosophy. Every child develops at a different pace and I enjoy the challenge of meeting the child at their level and encourage growth.
When I am not at Rivendell I an an active volunteer with The Growing Project and the Bike Co-op. I enjoy riding my bike, listening to music, walking with my daughter and our dogs, skiing, reading, and volunteering.
Back