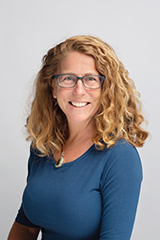 Sarah Maharry is a "teacher at large" at Rivendell School. In her role, she assists other Rivendell teachers throughout the school. As a life long learner herself, Sarah continually finds ways to reach her students through up-to-date best practice approaches. She works collaboratively with other teachers to make sure she is reaching each student. Sarah works hard to build relationships with each student, so they feel comfortable to advocate for themselves.
Sarah values genuine relationships with her students and creating an environment where they feel safe to learn. She believes children learn best when they are challenged and are interested in the subject they are studying. She also believes in teaching to the whole child which happens best in a collaborative environment.
A Colorado State University graduate, Sarah holds a Bachelor of Arts in history and earned her degree in elementary education from the University of Northern Colorado. She also holds an Early Childhood Teaching Certificate.
Family is very important to Sarah, and her son and daughter both went to Rivendell and are successful, happy adults. She also has two wonderful stepdaughters, and her husband is an Occupational Therapist. Sarah's roots are in Iowa, but she considers Colorado her true home. She enjoys all kinds of bike riding, skiing, hiking, paddle boarding, reading, and traveling.
Back