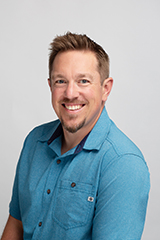 Seth role is to teach kids in an individualized manner across all academic and social areas.
Seth's philosophy of teaching is centered on his belief that kids should be challenged and given the space to struggle to learn new things. This aids not only his students' academic growth but their social-emotional growth as well.
Shortly after completing his Bachelor's degree in elementary education from Illinois Wesleyan University, Seth moved to Colorado. He has since earned a Masters degree in education administration. He has been teaching at Rivendell since 2001.
Seth's wife is also an elementary school teacher in Fort Collins. He has one child, his daughter Violet, who attended Rivendell and is now in high school. Seth's family loves to go to concerts and theater productions, head out on a lake to paddle, travel anywhere and everywhere and camp. When he has time by himself, he loves to play his guitar, ride his bike, and read.