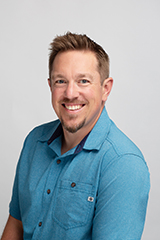 I have taught Younger Kids at Rivendell since 2001. Both of my parents are teachers in Illinois where I grew up, so I guess you could say education is in my genes! I moved out to Colorado after falling in love with the mountains on a trip out here during college. I consider myself quite lucky to be living in such a beautiful location.
Our son has been attending Rivendell since he started as a preschooler here in 2008. Being a parent is a lot of fun and a great deal of work, and I love talking with the parents at Rivendell about our kids. I love encorporating music into the classroom. I play guitar, and singing with the kids is one of my favorite activities.
I love the community at this school and the focus on each child as an individual. I enjoy helping children become confident and capable students and people. Seeing my students feel the joy of mastering something they previously couldn't do is very gratifying. I love being allowed and encouraged to individualize my instruction to each student I teach. I am very proud to be part of the Rivendell community!
When I am not at school I love spending time with my family outdoors; hiking, camping, taking photographs and searching for cool rocks. Music is a big part of my life as well, and I love spending time playing my guitar or mandolin and singing. I am also an avid reader.
Back