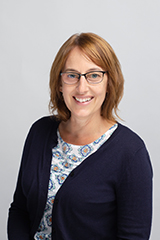 I'm originally from a tiny village in the heart of the English countryside near Stratford-on-Avon. In 1988 I moved to San Francisco. Seven years later my husband and I moved to Fort Collins, and I began teaching at Rivendell in 1995. For many years I taught Younger Kids before moving up to Middle Kids.
I love to act and sing opera in the classroom. And being born in a different country, I get to introduce students to its culture.
What I enjoy about teaching is watching the light bulb go on when the kids get something that has been challenging. I love watching the kids grow into confident, thoughtful, responsible students.
I especially love the small school, family atmosphere at Rivendell, getting to know all the children, not just those in my class. I also love being able to develop curriculum.
My husband and I have two children who are Rivendell students. I enjoy hiking, gardening, yoga, and reading.