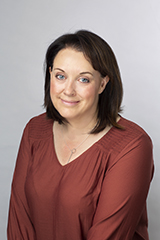 Born in Texas, I have lived in California, Idaho, and Nevada prior to settling in Fort Collins in 1990. While I have been teaching and subbing at Rivendell since 2005, I "officially" began teaching music in 2012 and then added teaching art in 2014.
My background in instrumental music is one thing I'm excited to share with our students in music class. I love improvisation and discovery lessons. I believe strongly in fostering creativity and innovation skills in the music classroom. Those same skills of risk taking, creative thinking, and making connections are also behaviors I want to see my students exhibit in their artwork. I love watching students struggle to get something right, but really put in the effort until finally, the finished result is something they're proud to call their own!
I am always excited to be with the students and watch them learning new things. I work to provide an environment where kids feel safe enough to express themselves and be creative. I love looking for ways to bring new experiences to my students and hopefully make them think about music and art with a fresh perspective.
I love the family atmosphere and culture of respect at Rivendell. Students in this school take care of and respect each other, and they're taught to be both confident and assertive, as well as kind and compassionate in their communication with each other. It's unlike any school I've ever taught at.
My husband and I have four awesome and busy children. In addition to teaching, you can often find me at Tina Wood Photography, which I have operated since 2003. If I ever happen to find myself with free time, I enjoy reading and listening to music, traveling, and cooking.
Back