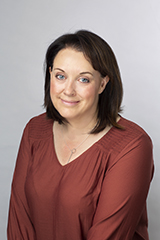 Tina Wood is a music and art teacher at Rivendell School, where the Arts are an integral part of our students' experience. You will find Tina behind the scenes as she helps students shine at grade-level musicals, the annual Spring Program, weekly Group Sings, hallway art displays, and our annual student art show. She works to involve every child in the creativity, self-expression, and individuality that come with learning in music and art.
Tina's favorite part of teaching music and art is that she often gets to see a completely different side of her students than their classroom teachers do. She might see a super energetic child show calm and careful focus, and immense pride in creating their artwork, or a quiet student who really comes out of their shell during a musical performance. She loves the saying, "We don't teach the Arts. We teach children, and the arts are how we reach them." She gets to see that manifest in her classrooms every day, as her students try new things and push themselves creatively.
In 2002, Tina graduated from Colorado State University with a Bachelor's degree in Music Education. She taught middle school band and orchestra before coming to Rivendell in 2011.
Outside of Rivendell, Tina owns a photography studio in Old Town, which keeps her busy. She loves to go to concerts, read books, listen to podcasts, hang out with her adult kids, and travel when she can find the time.