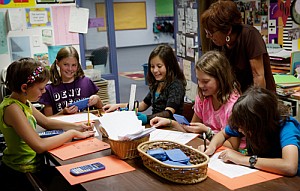 Accreditation is a voluntary method of quality assurance developed by American schools and universities. It is designed to ensure institutions adhere to high educational standards.
The accreditation process also helps Rivendell assess its programs, processes and curriculum and allows us to make changes to achieve our goal of excellence in education.
Rivendell Schooll is accredited by AdvancED. The AdvancED Accreditation Process, a protocol embraced around the world, is a clear and comprehensive program of evaluation and external review, supported by research-based standards, and dedicated to helping schools, districts and education providers continuously improve.