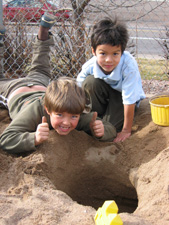 Hours
The extended care program is run by Rivendell School staff on scheduled school days, before school from 7:00am to 8:00am and after school from 3:30pm (3:00pm for preschool) to 6:00pm. It is available to all students enrolled at Rivendell. It is designed to provide a safe, fun and productive place for students, while accommodating parents' schedules. Children at extended hours after school are provided with a simple snack of milk or water and crackers, cheese, or fruit. Non-perishable personal snacks may be sent to school for eating during extended hours if the family so chooses.
In the event school is closed for the day due to inclement weather, the extended care program will be closed, too. However, if Rivendell has opened for the day (starting at 8:00am) extended hours will remain open in the afternoon.
To contact us during extended care hours, please call 970-310-9369.
Program Cost
The cost for extended hours care is $10.00 per child, per hour. Arriving anytime between 7:00pm-8:00am is a flat fee of $10.00; afternoon is charged in half-hour increments. Pre-K to 5th grade charges begin at 3:30pm; preschool charges begin at 3:00pm. The total is tallied on the 31st of the month and added to the billing statement for the next month. There are no charges if your child is brought to school after 8:00am or picked up before 3:30pm (3:00pm for preschool). Children not picked up by 3:30pm (3:00pm for preschool) will be signed in with an extended care teacher by one of the outside duty teachers.
After-school pick-up after 6:00pm: Staff are scheduled until 6:00pm each day. After 6:00pm, families will be charged $25 in addition to the hourly charge. If dinner is provided for the student after 6:00pm, the family will be charged the cost of the dinner. Staff will call parents that have not arrived by 6:00pm. If the staff member cannot get in touch with parents or the emergency contact, Rivendell is required to contact the police.
Rivendell's extended hours program is licensed by the State of Colorado, Department of Human Services. Our license is available for viewing in the office along with our current Health Department and Fire Department inspections.