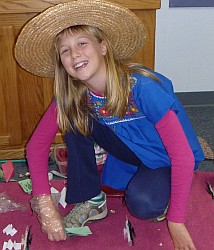 Rivendell offers Spanish language instruction in its program. Studies suggest that learning a second language helps develop a child's cognitive skills and improves the child's learning of other subject matter. The intrinsic goal of our foreign language program is for students to develop a love and an appreciation of languages, of cultural diversity as well as improved self-esteem. We introduce children to foreign languages and culture through literature, songs, rhymes, and dialogue. Children learn adequate and useful vocabulary, to understand culture and geography, and pronunciation along with grammar, speaking, reading and writing skills.
Preschool Students experience the language through auditory, visual and kinesthetic activities. Literature, songs and rhymes help the children feel comfortable listening to and speaking Spanish. Numbers, colors, animals, and greetings are explored as well as customs and culture.
Younger Kids Students learn songs and play language games to practice vocabulary and pronunciation. They gain a basic vocabulary combined with simple phrases and commands. Children explore culture and customs through literature and role playing.
Middle Kids Students expand their vocabulary through speaking and listening opportunities. They learn to read and understand short passages written in the second language. Children continue to experience the languages through hands-on activities, literature, songs, rhymes, dialogue and role playing.
Older Kids Students at this level learn to apply, practice and expand their speaking skills through games, short performances, songs and conversations. They develop their reading, writing, and grammar skills through workbooks and texts. They grow in their appreciation and understanding of cultural diversity.