The fun and learning doesn't stop when school lets out! Various after-school activities and classes are offered throughout the year. From robots to yoga to music to chess, there is a class for you.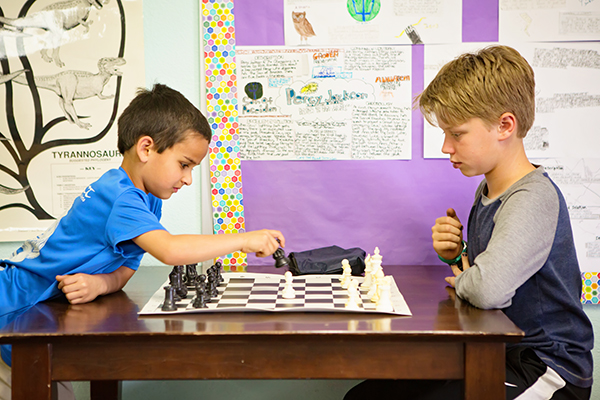 Students attending after school activities at Rivendell, should first check in to aftercare. Instructors will come to aftercare to check-out students for their activities. For activities beginning right after school at 3:30, you will not be charged an aftercare fee. Please remind your child to go to aftercare first if they have an after school activity.
Please note: All communication regarding after school activities (such as schedules, fees, etc.) is directly through the after-school activity provider (via email/phone listed below), not through Rivendell. Medical information should also be communicated to the activity provider, see below.
---
Yoga with Victoria Clarke
Wednesdays.
Please contact Victoria Clarke at 970-419-8520 or rivendellyoga@gmail.com for details.
This activity is run by an outside business. Please communicate directly with the provider regarding registration, scheduling and medical conditions.
---
Science Matters STEM Club
Where science and fun are one! Thursdays, 3:20 to 4:20pm for students 5 years old through 5th grade.
Session: Super Science Smorgasbord. Starts March 12; 4-week club, $48. (No class March 19, Spring Break.)
Session: Bristle Bots. Starts April 16; 5-week club, $60.
Visit www.ScienceMatters.tv to reserve your spot today! Registration deadline is one week before club starts
---
Dance Classes
Calling All Dancers! Students will learn rhythm, flexibility, creativity, confidence, balance, dance techniques, and more. Alison is a teacher at Rivendell who has taught dance classes for 13 years and danced for even longer. Snack will be provided and students can be checked into or out of the aftercare program. Classes will meet in the gym.
Session 3:
Preschool: Tuesdays 3:15-4:15pm in the gym. March 24-April 28, 6 classes, $70.
Preschool/Younger Kids: Thursdays 3:15-4:15pm in the gym. March 26-April 30, 6 classes, $70.
Contact alison@rivendell-school.org if you are interested and for exact dates and more details. Please include your first and last name, your child's first and last name, and your child's age and class.
---
Guitar Lessons
Thursdays, half-hour lessons available between 4:30 and 5:30pm. In the art room.
Cost: First lesson only $10, succeeding lessons $20. Parent and child lessons are $25.
To register, contact Justin at 970-690-6795.
---
Please note: Rivendell School can not share medical information about your child with non-Rivendell staff such as after school activities providers. If your child has allergies, asthma, requires medication or has any other medical condition, please share this information directly with the after school activity provider (i.e. the yoga instructor or Chessmates).