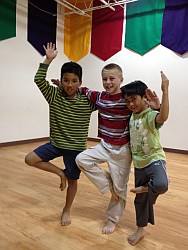 Physical Education is not just a class a child attends a couple of times a week to play games. It involves the whole child: we learn movement skills beneficial for daily life, study how regular exercise and healthy diet are an important lifestyle choice, and discover how to work as a team and how sportsmanship affects those around us.
Rivendell's PE curriculum is aligned with the Colorado Academic Standards for Comprehensive Health and Physical Education. Areas covered in Rivendell Physical Education include Psychomotor skills (movement competence and understanding), Cognitive understanding skills (of games, rules, personal health and wellness), and Psychosocial skills (teamwork, sportsmanship, safety).  We use numerous activities to teach, but physical activity is always our aim.  Lessons may be occasionally supplemented with a "chalk talk", but even more "academic" PE subjects are taught in a movement-oriented, active and engaging way.
Here is an outline of the physical education program's developmental areas, and some of the sorts of activities we use to teach them.
Rivendell PE Curriculum Outline
DEVELOPMENT AREAS

PSYCHOMOTOR

Personal and general space
Locomotor skills
Sending (throwing, kicking, striking)
Receiving (catching, trapping)
Balance and proprioception
Jumping and landing

COGNITIVE

Game rules
Game strategy
Fitness concepts
Nutrition
Anatomy & physiology

PSYCHOSOCIAL

Sportsmanship
Teamwork
Communication
Healthy lifestyle choices
Safety

ACTIVITIES

TRADITIONAL GAMES

Soccer
Football
Rugby
Basketball
Volleyball
Badminton
Hockey
Ultimate (disc)
Track and field events
Kickball
Tag games

INDIVIDUAL ACTIVITIES

Jump rope
Yoga
Tumbling
Juggling
Balance beam
Fun Run

COOPERATIVE ACTIVITIES

Jump rope
Platform transfer
Parachute
Fitness and nutrition illustrations
Anatomy and physiology illustrations
Invent-a-game