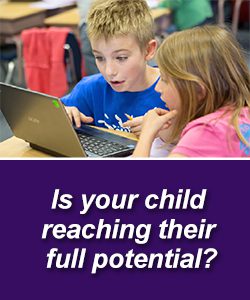 At Rivendell School, we welcome mid-year school transfers and have strategies in place to help families adapt and feel welcome in our school environment. Whether your child is feeling lost in a classroom with a large student to teacher ratio, struggling in a particular subject, or you're new to Fort Collins, our independent private school is a place where families can develop a new relationship and view of what an elementary school education can mean for their child.
Every Rivendell student, whether they begin on the first or 50th day of school, is assessed by their new teacher in a one-on-one manner to find out where they are academically and what learning strategies will work best for them. This means your child won't be too far behind or too far ahead in the classroom. He or she will start exactly at their personal skill level.
If you'd like to learn more about a mid-year move to Rivendell, contact our admissions specialist to arrange a tour or attend one of our Open House events.
"All the teachers deal skillfully and creatively with positive tactics to reroute behaviors, and subsequently, both my sons are thriving, flourishing, and excelling at Rivendell just the way they are." —Rachel, Rivendell parent
Elementary years should be a fun, invigorating time for children to develop a deep love of learning! Call 970.493.9052 or email us today to see how Rivendell School can help your student.