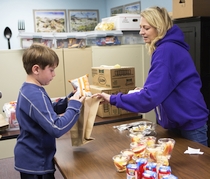 Rivendell's lunch program strives to maintain healthy nutrition and ingredients, and is sourced locally from Fort Collins restaurants.
Cost: Rivendell's hot lunch program will start with the first day of school. Lunch costs $5.50 per meal, tax included. Milk or water (drinking fountains or students' own water bottle) will be available with all hot lunches, and students bringing lunches from home may purchase individual milk cartons for $.50 each.
Procedure: Lunch tickets are available for sale in the office and can be used any day of the school year. Students purchasing hot lunch must drop their lunch ticket in their classroom bucket across from the front desk by 8:45 am. Students must circle their lunch choice for the day. Choices are listed on the back side of the lunch tickets. Please note that lunch counts for the school will be phoned in to the day's supplier by 8:45 am. If a child will be late to school and wants to purchase hot lunch, please call in the lunch order to the school office by 8:45 am. Parents are invited to send supplemental lunch foods with their child if they wish to add to the hot lunch menu. And, as always, participation in the hot lunch program is completely voluntary.
Monday - Chick-fil-A
Entree Choices:
1) CFA Sandwich. 2) 8-ct Grilled chicken nuggets. 3) 3-ct Chicken strips. 4) Chicken wrap. 5) Grilled Chicken Salad.
Sides:
Fresh fruit, fruit cup or applesauce.
Beverage choice:
White milk.
Tuesday - Tokyo Joe's
Entree Choices:
1) Chicken with rice. 2) Chicken with noodles. 3) Tofu with rice. 4) Tofu with noodles. *All entrees include carrots and snow peas.
Sides:
Mandarin oranges.
Beverage choice:
White milk.
Wednesday - Matador Mexican Grill
Entree Choices:
Customized burritos on a whole wheat tortilla. Stop by the office on Wednesday morning to choose what goes inside your burrito.
Sides:
Tortilla chips and fresh fruit, fruit cup or applesauce.
Beverage choice:
White milk.
Thursday - Noodles & Co.
Entree Choices:
1) Macaroni & cheese. 2) Penne with marinara. 3) Penne Alfredo. 4) Buttered noodles. 5) Curly pasta with pesto & veggies.
Sides:
Applesauce and Rice Krispie Treat.
Beverage choice:
Organic white milk.
Friday - Jason's Deli
Entree Choices:
1) Ham (nitrate-free) & cheese sandwich. 2) Turkey & cheese sandwich. 3) Toasted cheese sandwich. 5) Baked potato with butter, bacon and cheddar cheese. Sandwiches served on multi-grain bread.
Sides:
Organic apples and a bag of chips, pretzels or crackers.
Beverage choice:
Organic white milk.