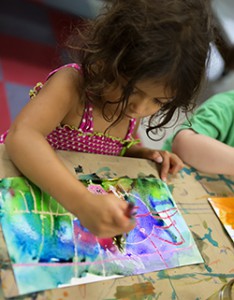 Rivendell's curriculum is founded on the philosophies of individualized learning and the education of the whole child.  We believe learning experiences should both engage and challenge students, and in order for this to happen, the curriculum, instruction, and teaching practices must all work together to create an environment that supports our belief that children learn at different paces and in different ways.
Individualized learning, however,  is not a menu of curriculum choices. Instead, it is a mindset that our educators and school community use to adjust the Rivendell curriculum to meet needs of each student.
Through the dedication and skills of our gifted staff, each Rivendell student is:
Given a personalized course of instruction that challenges his or her ability;
Helped to develop critical thinking skills;
Encouraged to meet high expectations at a pace that is developmentally appropriate for each individual;
Personally invested in the process of subject mastery;
Provided with opportunities to strive for her/his personal best;
Challenged to view the world through programs in core academics, foreign language, fine arts, technology, sciences, and physical education, along with generous unstructured outdoor play time;
Allowed to grow—academically, socially, and emotionally—within a safe environment that celebrates the experience of childhood.
The key components of our philosophy work together to support Rivendell's unique individualized curriculum.