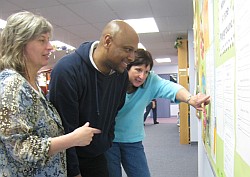 Rivendell School exists today because of volunteers. As an independent school, everything we've built has been from the ground up by parents just like you. We need your help to continue our legacy of offering programs that make our school great. In addition to helping keep overhead costs low, volunteers make our school community even stronger through the relationships and camaraderie that develop when we're working toward a common goal. Our opportunities offer something for everyone so take a look below and sign up today!
See our Volunteer Handbook for more information.
Rivendell Parent Association:
The purpose of the Rivendell Parent Association (RPA) is to formally organize parent volunteers to promote, organize, and carry out events and activities as determined by Rivendell School. This group of parent volunteers is led by the Admissions Specialist and Principal. The RPA meets regularly to discuss upcoming school-wide and community events.
Rivendell School-Wide Volunteer Opportunities:
Board of Directors (elections held each year)
SCRIP (gift cards)
Bulletin board designers
Library: Circulation volunteers, book covering, Scholastic flyers helper
Rivendell Classroom Volunteer Opportunites:
Classroom party helper
Musical program assistant
Rivendell Special Event Volunteer Opportunites:
Art show
Fun Run
Field Day
Scholastic Book Fair coordinator
Science Fair judges
Spring Event