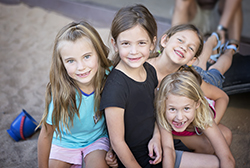 Rivendell welcomes all types of learners, and we celebrate the differences in and individuality of each of our students. Many parents often find that their child who has struggled in a public school setting with large class sizes and assessment-heavy instruction flourishes in our small classes with individualized instruction and content.
Gifted/Academically Advanced Learners
Rivendell has great resources for gifted, advanced, or creative learners. At Rivendell, students have the opportunity to progress at their own unique pace, and for students that learn content quickly and enjoy moving at a faster rate, Rivendell is a perfect fit. Gifted learners are also able to express their unique and creative learning preferences and styles through our school-wide topic studies that engage our students in many opportunities for creative productions, engaging writing opportunities, and high-level thinking.
Rivendell does not provide special services for gifted learners precisely because we already individualize our academics. Small class-sizes, multi-age classrooms, and a curriculum built around individualization for each student means that gifted learners have an opportunity to reach their potential and develop a love for learning.
Creative Thinkers and Learners
Creative students are curious, reflective, original thinkers who tend to find really unique ways to solve problems. At Rivendell, because of our individualized curriculum and focus on the whole child, creative thinkers have many opportunities to demonstrate their learning in multiple ways. Rivendell teachers often give choices in how a student can show what they have learned, and our school-wide topic studies in social studies and science are full of hands-on exploration and learning activities that purposefully push students to think outside the box.
Struggling Learners
Parents of students who struggle academically often see their child withdraw from their peers and from school. At Rivendell, we see the positive effects of individualized learning on self efficacy, or the belief one has in their own abilities. Some students struggle with the pace of whole-group learning, and therefore, when given the time to truly internalize their learning, they find they can be successful, and a love for learning can foster and grow where it could not before. At Rivendell, we have a literacy specialist as well as a math specialist who can offer additional support to struggling learners. Small classes and multi-classrooms are also of benefit to the struggling learner.
Please note: Rivendell does not offer self-contained or resource classes for students who might otherwise qualify for such services through an Individualized Education Plan for public schools. Rivendell School's curriculum is not designed to effectively meet the needs of students who have learning difficulties that are the result of primary emotional or behavioral problems, below average cognitive ability, pervasive developmental disorder or autism disorder (including Asperger's syndrome), or traumatic brain injury.